If you are seeking treatment for a substance use disorder, you may be wondering: Can I afford a quality Drug Rehab Program? Will I be covered?
In this article, we will discuss how health insurance works for addiction recovery, the important facts about PPO, HMO and EPO plans and how we at Quest 2 Recovery have made our treatment programs accessible by partnering with trusted insurance providers.
The Importance of Accessible Care for Drug Rehab Treatment
According to the Substance Abuse and Mental Health Services Administration, around 22.7 million people are in need of Addiction Treatment Services each year but unfortunately only 11% will find their way into a program.9,8 While there are many reasons someone with an addiction would forgo treatment, one serious barrier is out of pocket costs.
Many individuals considering treatment are at a low point in their life and as a consequence are suffering financially. This creates a serious challenge for recovery programs and insurance providers to work together make quality care more affordable and obtainable.
Does the Affordable Care Act (Obamacare) Cover my Addiction Treatment?
In short, yes. The Affordable Care Act [ACA] has provisions in it that not only guarantee addiction and mental health coverage for all its recipients as an essential health benefit, but it also prevents the insurance providers from:
Charging high premiums or denying care for mental health and SUD as a preexisting condition3
Placing restrictions on mental health and addiction treatment they wouldn't place on general medical care3
PPO VS HMO: What to Expect as You Look for Drug and Alcohol Abuse Treatment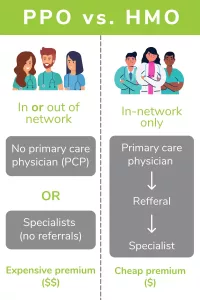 The out-of-pocket costs associated with a recovery program can be expensive. That's why in addition to quality care, your highest priority is to find a program that is in your network. In most cases this will be determined by the type of insurance plan you have.
HMO
An HMO or a Health Maintenance Organization, offers more affordable premiums and lower deductibles but strictly limits coverage to doctors and medical facilities that are in-network.1 Here are some other things to know:
HMO plans often require you to select a primary care physician [PCP].
Your primary care physician decides what treatments you need and refers you to medical specialists 6
If you are seeking addiction treatment, your primary doctor may have to provide a referral before your insurance will cover costs.6
PPO
A PPO is a Preferred Provider Organization. It has a larger network of doctors and specialists and even allows you the option to go outside your network while still receiving some coverage. With a PPO you can also expect:
The freedom to see a doctor or specialist without consulting your PCP.6
Higher plan premiums and larger deductibles.6
EPO
An EPO or an Exclusive Provider Organization, limits care to a small network of contracted providers. This kind of plan combines the cost effectiveness of an HMO with some features of a PPO.
You don't need to choose a primary care physician
You do not need a referral to see a specialist
In-network providers have lower negotiated rates
Provides out of network coverage in the case of emergency
If you were to choose a rehab center that was out of your EPO's network, you would have to pay out of pocket.
Employer Healthcare Plans
Employer insurance can vary greatly, some plans are expansive offering gold or platinum coverage while others meet the "minimum value standards" for insurance coverage.4
Requirements for the Minimum Value Standard
Insurance pays 60% or more of your medical costs4
Must provide considerable coverage of "physician and Inpatient hospital services"4
Exploring Market Options; Benefits and Restrictions
Many who are dissatisfied with their employer's health insurance might find more substantial coverage in the open marketplace. Here are some of the advantages and drawbacks of going this route.
According to a survey, employer insurance on average covers 82% for single coverage and 70% for family coverage7
If your employer's insurance meets the minimum standard, you will not be eligible for financial assistance and other government incentives for a Covered California Health plan and other market plans. This is also the case for individuals with an existing market plan who change jobs and are offered employer insurance.1
MHN and First Health: Our Partners in Healthcare
Quest 2 Recovery's relationship with First Health and MHN, now allows Q2R to be a in-network provider for many HMO's, PPO's and EPO'S health plans. Its partnership with MHN and First Health, patients can get a higher quality of care and personalized support at Quest to Recovery without running to the risk of high out of pocket costs similar to those of an out-of-network facility.
First Health
An expansive PPO insurance network spread across the US. According to internal data, they provide access to over 5,500 hospitals, almost 115,000 specialist facilities and more than 1.5 million service locations.2
MHN
A behavioral health insurance provider and a part of Health NetTM insurance network. "They over 40 years of experience in healthcare, 63,000 credentialed practitioners and 1,500 hospitals and care facilities".10
The Addiction Treatment Services We Provide
At Quest 2 Recovery we offer a broad range of addiction treatment solutions from evidence-based therapeutic approaches, 24/7 medical support, relapse prevention and much more. These are our core programs:
Detox
Residential Inpatient Treatment
Dual Diagnosis Treatment
Interventions
Aftercare
Are You in our Network?
If you or a loved one are curious about whether our services are covered by your insurance plan, contact us at 1-855-783-7888 or click here to use our confidential insurance verification tool.
Citations
Employer coverage and financial help. Covered California. (n.d.). https://www.coveredca.com/learning-center/employer-sponsored-coverage/employer-coverage-and-financial-help/.
First Health. (n.d.). Medical Network Options. https://providerlocator.firsthealth.com/1001.
HealthCare.gov. Mental health and substance abuse health coverage options. https://www.healthcare.gov/coverage/mental-health-substance-abuse-coverage/.
HealthCare.gov Minimum value – healthcare.gov glossary. https://www.healthcare.gov/glossary/minimum-value/.
HMO vs. PPO: Knowing the difference in healthcare plans. (2020, July 2) The Checkup. https://www.singlecare.com/blog/hmo-vs-ppo/.
HMO vs. PPO Insurance Plans. Medical Mutual. (n.d.). https://www.medmutual.com/For-Individuals-and-Families/Health-Insurance-Education/Compare-Health-Insurance-Plans/HMO-vs-PPO-Insurance.aspx.
Miner, J. (2020, August 12). What percent of health insurance is paid by employers? Hassle-Free Health Benefits. https://www.peoplekeep.com/blog/what-percent-of-health-insurance-is-paid-by-employers.
Recovery Village. (2021, June 10). How much does rehab cost with insurance? https://www.therecoveryvillage.com/insurance/faq/how-much-does-rehab-cost-with-insurance/.
SAMHSA. (2014, September 4). Results from the 2013 national survey on drug use and Health: Summary of National Findings. SAMHSA.gov. pg. 81 https://www.samhsa.gov/data/report/results-2013-national-survey-drug-use-and-health-summary-national-findings.
MHN. (n.d.). Why MHN? https://www.mhn.com/about-us/why-mhn.html.